7 Days to Die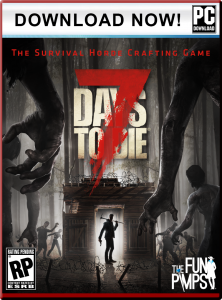 We're currently still in development of our hit survival game '7 Days to Die' with nearly 10 Million copies sold. You can buy 7 Days to Die on our Steam Store page.
The game is in Steam's Early Access program with continued awesome updates planned throughout 2018.
Product Description
7 Days to Die is an open world, voxel-based, sandbox game that is a unique mix of First Person Shooter, Survival Horror, Tower Defense and Role Playing Games combining combat, crafting, looting, mining, exploration, and character growth. From the ashes of the 3rd world war rises an unknown virus which transforms the surviving humans into an army of the animated dead, acting as a single-minded being. You play a survivor trapped in the savage, gritty, zombie infested world of Navezgane County Arizona one of the last true Eden's on Earth. Scavenge the abandoned cities of the build-able and destructible voxel world for supplies or explore the wilderness to gather raw materials to build your own tools, weapons, traps, fortifications and shelters. Play alone, with friends, run your own server or join others.
Play the definitive zombie survival sandbox RPG that came first 7 Days to Die, Navezgane awaits!