Welcome to The Fun Pimps Crib!
The Fun Pimps are the creators of  the hit survival game '7 Days to Die' with over 15 Million copies sold.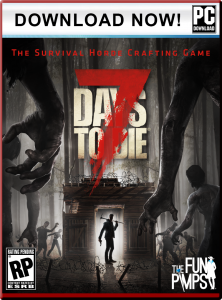 The Fun Pimps A.K.A. TFP are a small dedicated group of highly experienced Game and Software developers with a passion to make games that both our team and gamers really want to play. Our goal is to create a lasting gaming experience you can't get anywhere else. It's more than a game it's a labor of love!
Our team grew from humble beginnings making mods for games and those roots have taken seed. But we haven't forgotten where we came from and the importance of growing a strong vision with the support and passion of the people we're making the game for. The average 7 Days to Die Team member has over 14 years of experience in Game and Software Development working with or for many top companies.
We're too experienced to call indie but still small enough to do the innovative and sometimes risky things that AAA studios are afraid to try. So if you're with us buckle your seat belts survivors, grab your pickaxe, compass and knapsack and let's start kicking some Zombie ass and making some cool ass MacGyver shit!
Check out the 7 Days to Die home page or our Steam Store page to learn more and play 7 Days to Die the definitive zombie survival sandbox RPG that came first, Navezgane awaits!